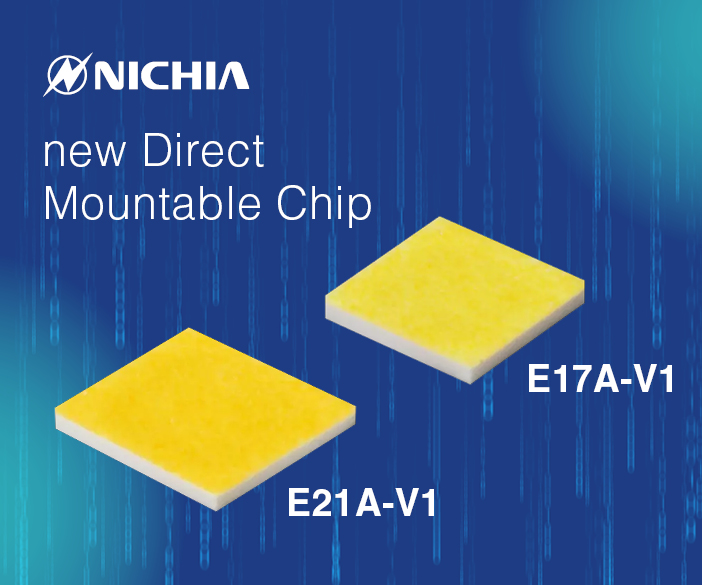 LED Direct Mountable Chip Nichia

With a global market share of 24%, Nichia, inventor of the blue (and white as well) light emitting diode, is the largest LED producer in the world. The innovative Nichia's department of research and development is a pioneer in reliability, brightness and efficiency and this is confirmed with the launch on market of the new series of  "Direct Mountable Chip":
NCSWE17A-V1 (~1W Class)
NVSWE21A-V1 (~2W Class)
"We are proud that Nichia, our long-time strategic partner, always surprises us with very interesting product updates", says Eng. Tiziano Fegatelli, PM in Welt Electronic.
"Nichia has always invested in research and development, constantly engaging in the quality of light. The increasingly demanding market, on the other hand, requires LED devices with greater efficiency. We are very exciting about this our strong partnership with Nichia, which allows us to propose Direct Mountable Chip LEDs on global lighting market. This technology will help us to improve the quality of light offering high performances always guaranteeing a maximum efficiency."
The evolution of lighting sector brings the name of Nichia.
Nichia's Direct Mountable Chip series offers high luminous flux density that enables compact size and flexibility in fixture designs. The recent improvement in luminous flux and efficiency represents the push to choose the new LEDs NCSWE17A-V1 (~ 1W Class) and NVSWE21A-V1 (~ 2W Class), suitable for a wide range of applications: indoor and outdoor lighting, street lighting, generic lighting.
NCSWE17A-V1
– Package size: 1.7×1.7×0.27~0.35(mm)
– Color: White
– Wattage: 1.03W
– Forward Voltage: 2.95V
– Luminous Flux: 173lm
– Condition:IF= 350mA, Tj=25℃, 5000KR, a≧70
NVSWE21A-V1
– Package size: 2.1×2.1×0.27~0.35(mm)
– Color: White
– Wattage: 2.06W
– Forward Voltage: 2.95V
– Luminous Flux: 336lm
– Condition:IF= 700mA, Tj=25℃, 5000K, Ra≧70
Contact the Eng. Tiziano Fegatelli for a free advice and discover the new Nichia Direct Mountable Chip Series.