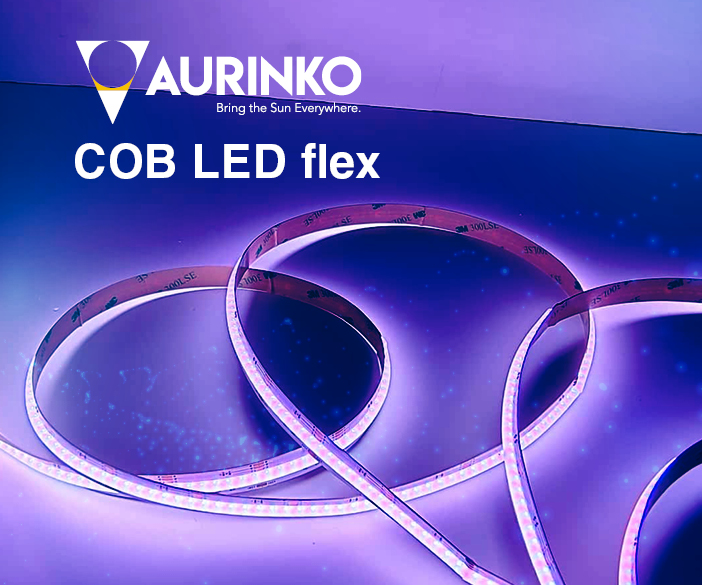 Aurinko COB LED flex

LED strips or flexible strips are a new type of lighting, widely used in the market, that is well suitable for different situations: from design applications to creation of commercial spaces. Highly efficient and long lasting, LED strips are suitable for all those projects where a flexible and linear lighting systems is required, to create a continuous lighting effect.

Welt Electronic has also decided to embrace this innovation in the field of strips, adding in its catalogue the COB LED flex by Aurinko, which has been designing and manufacturing for over 20 years highly efficient and reliability solutions for lighting applications.

The Aurinko's COB LED flex use flip chip technology applied directly on the flexible circuit board, they allow to create homogeneous lighting lines without the classic dotted effect and they offer a wide 180° diffusion angle even on profiles without diffuser or with visible strips.
Available in single color, dual color, white, RGB and RGBW, top view and side view configuration; the Aurinko's COB LED flex are easy to install and extremely versatile: they can be easily cut and bent to create plays of light and dynamic scenographic effects in all indoor environments (pubs, bars, restaurants, hotels, shops) and in all those places where you want to install a LED strip.

FEATURES:
• Reel-to-reel PCB, no solde joints for whole reel;
• COB design, dot free even without any profiles;
• Excellent lighting with SDCM in 3-step, high efficiency that's up to 100 Im/W @CRI90;
• Double layer 2oz PCB, for better flexibility, heat dissipation and voltage drop.