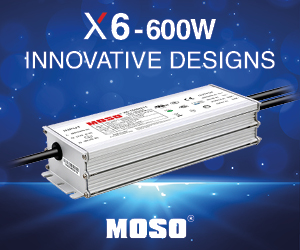 X6 series: the new 600W LED Driver

New X6-600W costant current LED Driver series by Moso, an off-line programmable Driver with constant lumen and all dimming options.

It's a Driver with high efficiency and reliability, provided with built-in timer dimming schedules to increase the energy savings and to extend the product lifetime.
Overall protection is provided against lightning surge, short circuit and over temperature. It can be customized for many lighting projects.

FEATURES:
– Universal input voltage / Full range: 90~305Vac;
– Constant power design, output current programming adjustable;
– (M types) offline programmable, (V types) output current adjustable by built-in potentiometer;
– 3-in-1 dimmable: 0~10Vdc, PWM, Timer dimming, dim-to-off;
– Constant lumen output;
– Output and Dimming Signal Isolating;
– Surge protection: 6KV line-line, 10KV line-earth;
– Protections: SCP, OVP, OTP;
– IP67 design for indoor and outdoor applications

APPLICATIONS:
Stadium, Horticulture.