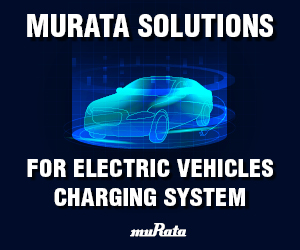 Murata solutions for electric vehicles charging system

As an "innovator in Electronics", Murata offers a wide range of cutting-edge components like sensors, transformers, capacitors, timing devices, AC/DC and DC/DC converters specifically designed for electric vehicles charging.

Electronic components of high quality, efficiency and reliability essential for the charging and the stable operation of electric vehicles, new generation in mobility sector.

In an increasingly growing automotive industry in search of components with ever higher performance, Murata is leader in the electronics sector, strongly contributing to the progress of a society in which everyone can move in respect and protection of the environment.

Take a look at the catalogue and discover all the Murata solutions for electric vehicles.