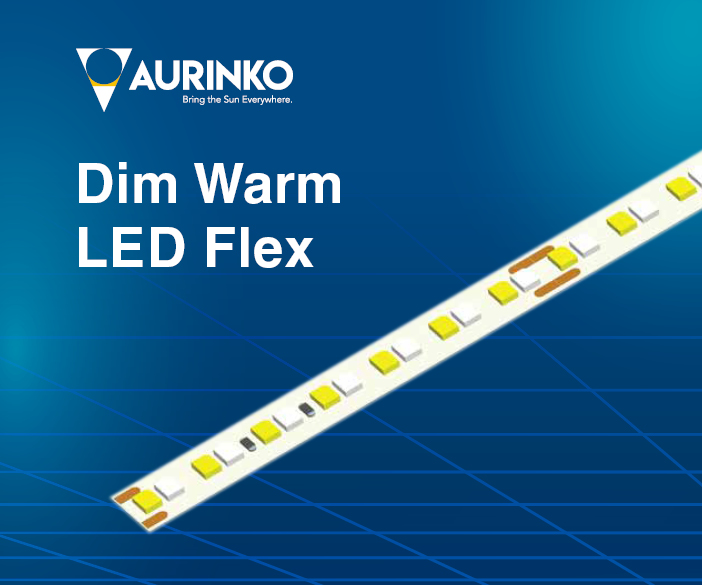 Dim To Warm flex LEDs Aurinko

A conscious use of light for indoor application is essential for the human well-being. For this reason the concept of Human Centric Lighting has spread widely in the last few years, referring to that particular lighting able to adapt to human circadian rhythm. This conscious use of light contributes to improve the concentration, the production efficiency and preventing sleep disorders.

The dimmability of light plays a fundamental role in the Human Centric Lighting: thanks to the accurate control systems currently available on the market it is possible to modulate and customize the light to make it as similar as possible to the natural light.

The term Dim to Warm indicates that particular control technology which, by decreasing the color temperature of a lighting body, allows you to have the right light at any time.
Thanks to the Dim To Warm flex LEDs, in particular, it is possible to recreate infinite number of light atmospheres with a very low consumption and obtaining high performance typical of LED lighting.

The wide range of Dim To Warm flex LEDs Aurinko, partner of Welt Electronic, have been designed to satisfy every need for linear LED lighting by reproducing the attenuation curve of traditional halogen light. This means that, by dimming the strip LED, the color temperature automatically changes from 1800K to 4500K without the need for additional controllers.

The Dim To Warm flex LEDs Aurinko ensure a high quality CRI90 lighting, an excellent color rendering index and lighting uniformity, obtaining vivid colors that are faithful to the original without any chromatic gap.

Extremely flexible and reliable, the Dim To Warm flex LEDs Aurinko are designed for professional and longtime use. They are suitable for the application in all indoor environments where we want to have a warm and welcoming functional light: hospitality, restaurants, retail and wherever we want to obtain scenographic effects.

Contact us to discover all the Dim To Warm flex LEDs Aurinko.